All professionals at Jyoti R. Shah, DDS maintain the highest levels of accreditation and pursue ongoing education to stay abreast of the latest trends in the medical field. Read on to learn more about our staff's experience and training.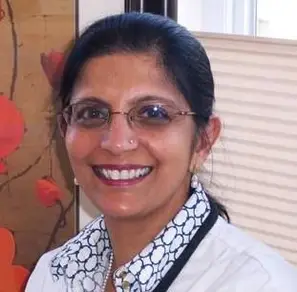 DR. JYOTI SHAH
Dr. Jyoti Shah has been practicing dentistry now for 26 years, and in the town of North Brunswick, NJ since 1998. Her education began at the Bombay University - Nair Hospital Dental College, where she received her undergraduate dental training. After coming to the USA, Dr. Shah decided to attend NYU School of Dentistry to further her education. She received her diploma and graduated in 1992.
After completing school, Dr. Shah worked as an associate dentist in New York before deciding to open up her own practice. Dr. Shah enjoys providing all-inclusive dentistry with three simple rules….
1. Do our best.
2. Treat our patients the way we like to be treated.
3. Do what is right for our patients.
While maintaining a healthy environment at her office, Dr. Shah continues to expand her education by learning about orthodontics, implant dentistry, sleep dentistry, and more.
Dr. Shah is an active member of various professional organizations including, but not limited to the American Dental Association, Indian Dental Association, and New Jersey Dental Association. Dr. Shah is also an active member of "Donated Dental Services", where she donates her talent and skills to the most vulnerable people: disabled, elderly, or medically-compromised individuals who cannot afford necessary treatment nor get public aid.
At home, she is a busy mom who recently retired from the "chauffeur" duties, as her children started driving. To keep the harmony between her mind, body, and soul, Dr. Shah routinely practices hatha yoga. To Dr. Shah, "a career as a Dentist is personally fulfilling." She can be reached at (732) 246-8181 or [email protected].
We Look Forward to Being Your Family Dentist for Years to Come! At Brunswick Family Dentistry, your family is our family. Patients in New Brunswick, Edison, East Brunswick, North Brunswick, and surrounding communities will find Dr. Jyoti Shah's thorough care and gentle touch just right for the whole family's dental needs. Contact us for your appointment today. If you have questions, please ask! We're here to serve your needs and exceed your expectation.
---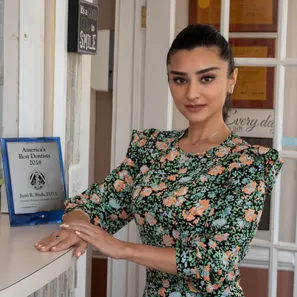 MADINA SATTAROVA
Hi, I'm Madina Sattarova-registered Dental Hygienist. I developed a passion for dentistry from childhood. After having several dental issues with my own teeth from grinding, root canals, fillings, etc. I am motivated to help others.
In May of 2014, I graduated from New York City College of Technology with a degree in Dental Hygiene. In 2018, I became Dawson Academy trained hygienist. As a Dental Hygienist, I enjoy the opportunity to educate my patient about their dental health and teach them how to take care of their teeth and gum properly. I perform gum therapies for bleeding, swollen gums, help people who are afraid to smile freely because their teeth are stained from smoking and also, help those who have bad breath issues. I take before and after pictures to show my patient's how to prevent problem and possible tooth loss.
My highest motivation is to see improvements and successful result of the treatment in my patients. I truly believe, my professional success = success of my patient's oral health! I am actively practicing and learning through continued education about complete care and preventive approach to provide the best and up to date care for my patients.
Outside of work, I love spending time with my mom and son, including family and friends. I love to read books and listen to a good music.
---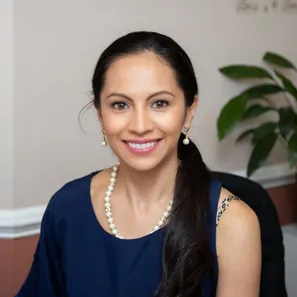 GABRIELA LUCRECIO
Welcome to our office, my daytime home! I'm Gabriela Lucrecio but everyone lovingly calls me Gabby. I am a treatment coordinator/dental assistance, working with Dr. Jyoti Shah for over 15 years now. I love my work, I enjoy knowing our patients and helping them navigate dental insurances, explaining the need for dental treatment, translating if needed Spanish-English, also holding my patient's hand during dental treatment (if afraid). I am always here to make you feel welcome and comfortable during your appointments.

Besides dental professional, I'm a super foster mom of two wonderful kids, five loving cats, two noisy birds; named Lucky(caique) and Nico(yellow-naped amazon). It's always a new day, new challenge to teach and learn from my fosters. Cooking is my passion; I enjoy baking variety of healthy food for my family including my cats. I rescue cats that have been mistreated and/or abandoned by other families. Honestly, I am not sure who rescue, who? But, I love going back home after work, knowing someone is waiting for me! I always find time for myself to do some arts and crafts. I enjoy learning and making things that are useful. My new hobby is cold process soaps.
I am always here to make you feel welcome and comfortable during your appointments. You can always find a friend in me! See you soon.